You can verify invoice details, enter missing information, and make corrections before submitting your invoices to Workday.
Editing Invoice Details
To edit an invoice's details:
Go to My Invoices.
Click on an invoice's Ascend ID. This opens the document entry page.
Click on any field to edit its details.
Enter new info or select any dropdown menu suggestions.
Your changes save automatically.
Only one person can actively edit a document at a time. If a document is left idle for fifteen minutes, anyone with access to the document can edit it.
Make sure to review and verify the info in each field before submitting it to Workday. Each required field is color-coded so you can quickly scan which information you need:
Green fields with checkmarks have validated information.

For most fields, such as Company, this means that the value shown is also valid in Workday. Other green fields indicate the entry is valid in other ways (valid dates, unique invoice number, etc.).

Red fields have invalid data or missing required information.

Red fields with grey text show supplier default information from Workday.
Check out Understanding the Document Entry Fields in ElevateAP to learn more about the details required for each field.
Change Document Type
If you need to change the document type, click Invoice Details at the top of the page to change it to Credit, Debit, or Supplier Invoice Request.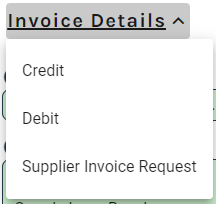 Invoice Image
The invoice image on the document entry page lets you reference the invoice information while you enter the invoice details. Above the invoice image, you have the following options:
Delete an invoice.
Cancel an invoice. Canceled invoices show in the Complete Invoices section.
Skip to the next or previous invoices in your queue.
Within the invoice image, you can:
Zoom in.
Zoom out.
Download the invoice image as a PDF.
Enter the page number that you would like to view.
Add and Code invoice lines
You can add and code invoice lines within ElevateAP. Your invoice line requirements may depend on your system's settings. To add an invoice line:
Select an invoice to go to the document entry page.
On the document entry page, click Add Invoice Line.
Enter in your invoice line details.
To add another line, click Add Line. To remove one or more invoice lines, click the checkbox next to each line you want to remove and then click Remove Lines.
Enter as many lines as needed for the invoice. If you need to change your invoice line settings, contact support.
Duplicate an invoice line
To duplicate an existing line, click the checkbox next to the invoice line and click Duplicate Line.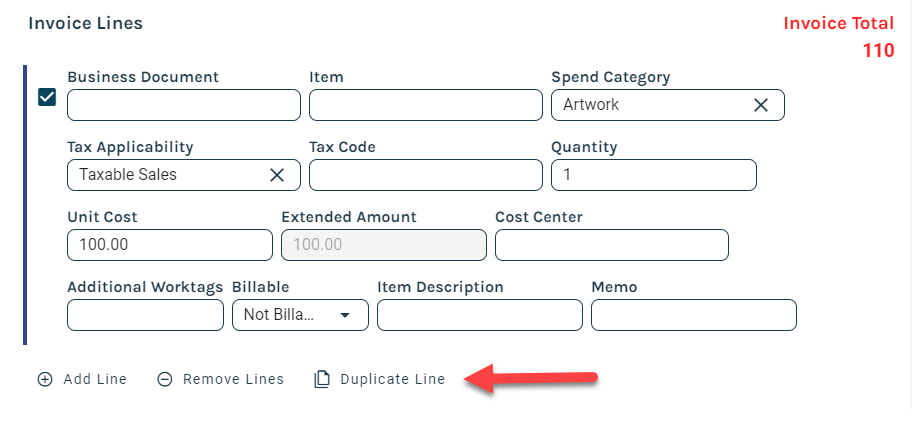 The duplicate line appears at the end of the Invoice Lines and includes all of the same values as the original line, except:
Business Document
Quantity
Unit Cost
Extended Amount
Duplicating an invoice line can save you time when you need to:
Split and distribute a single invoice line to multiple spend categories, companies, cost centers, projects, etc. Instead of manually recreating an entire line, duplicate it and then make changes to individual fields as needed.
Add similar lines with minor differences. For example, several lines are the same except for Quantity, Description, and Extended Amount.
Worktags
Your available Worktags sync from your Workday account, so make sure to keep them up to date. To add Worktags to your Invoice Lines:
Add an Invoice Line using these steps.
Click the Additional Worktags field.
Enter in the Worktag name. A dropdown menu of results will appear.
Select the Worktag from the dropdown menu. Your changes save automatically.
PO invoices
To link an invoice with a purchase order (PO) in Workday, enter the PO number as it appears in Workday into the PO Number field.
There are two ways to add line details to an invoice with a linked PO:
Choose from suggested PO lines in the Business Document field. The remaining invoice line fields will populate automatically. You can make changes to the quantity, unit cost, extended amount, and memo fields.
Use the Line Workbench. Check the lines you'd like to add from the Available Lines from Purchase Order section and click + Add Lines. Select Update Lines to save your changes.
Multiple Purchase Orders for One Invoice
In some cases, you may be invoiced for items from multiple purchase orders. In this case:
Enter one of the PO numbers into the PO Number header field and add all of the lines for that PO.
Without removing any PO lines, change the PO number in the PO header field.
Add all of the lines for the new PO number.
Repeat steps 1-3 until all invoice lines are added.
Note: You may leave the PO Number header field blank. When you start entering info into the Business Document field, you can choose suggested lines from all open purchase orders. This can be helpful if you don't know the PO number.
Submit Invoice to Workday
When you're finished adding invoice lines, select the Submit button to add the invoice to Workday.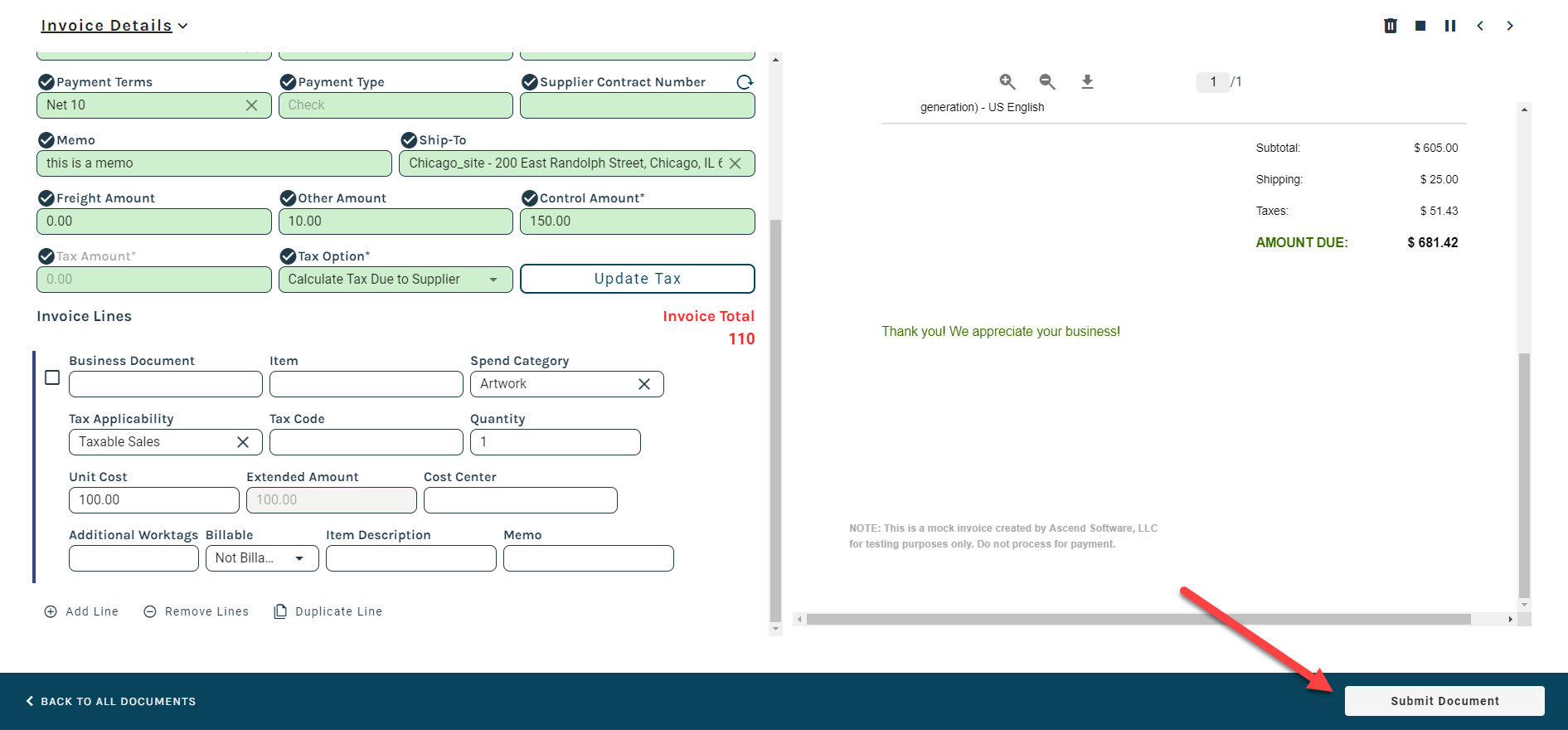 ElevateAP verifies that the invoice is "in balance" according to this formula:
Invoice amount = Tax + Freight + Other charges + Total Extended Amount of all invoice lines
If the invoice is in balance and added to Workday successfully, the invoice is removed from the ElevateAP queue. The next invoice loads automatically. If there are no more invoices, you'll return to My Invoices.
Depending on your ElevateAP settings, you may be able to submit invoices that are out of balance to Workday. In most cases, invoice documents and their data are stored for 30 days in ElevateAP after you add an invoice to Workday. Learn more about our document retention policy.