We're glad you've joined ElevateAP! These videos and articles will teach you everything you need to know to get started. Follow along and click on the links to learn about each feature.
You can see a version of this guide within ElevateAP by clicking the question icon in the bottom right-hand corner of the application.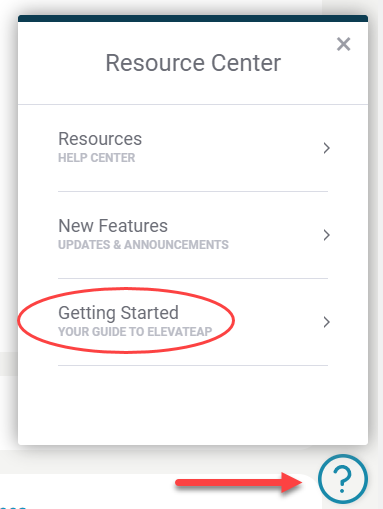 Tip!
Did you know you can also click the

 on any page within ElevateAP to take a guided tour?
Get Started Using ElevateAP
Start with the video

overview of ElevateAP that's at the top of this article

.

This is a short video to help you get familiar with the basics.
Next, make sure you understand exactly what Touchless Processing is. It's going to be your biggest asset while working with ElevateAP.
Now

 let's get you

logged in.

If you're here in the Help Center, there's a chance you have already logged in to ElevateAP. If not, this article will show you how to activate and log into your account.
Tour Each Section
The Dashboard is your hub for all incoming invoice information. Knowing how to use the dashboard makes working in ElevateAP so easy, so be sure to take notes!
My Invoices is where you can access all of the invoices that need your help! This article is filled with helpful tips about sorting and filtering.
Learn to Complete Tasks
Processing Invoices is probably where you will spend the most time in ElevateAP. This article will walk you through the process. (… pssst. If you have questions about what each field means, don't worry—that's later in the guide!)
For one reason or another, you may need to place an invoice on hold before submitting an invoice to Workday.
Sometimes, suppliers will accidentally send in an attachment with multiple invoices, or with extra pages. Splitting documents or deleting extra pages is an easy fix, if you know where to look!
Level Up Your Skills
Customize Your Settings
Administrators can make changes to their ElevateAP system.
Start by managing users and assigning their roles to set up new users on your team or edit the roles of existing members.
Setting up Document Groups lets you decide which documents go to which specialists.
You can manage Document Settings for your AP specialists that are processing invoices.
Then, you can set which header fields are required to submit an invoice to Workday.
Finally, learn all about using Worktag Field Settings to customize your document entry page.

Congratulations! You've completed Your Guide to ElevateAP.
The next step in your Onboarding is to complete User Acceptance Testing. Feel free to check out the article and video on what to expect to prepare yourself for this next phase.