The Invoices section of ElevateAP has all of your documents. You can view all the documents you need to process in the My Invoices section. Completed Invoices show documents that have already been submitted to Workday.
Each of your document groups has its own tab so you can quickly look up invoices in that group. The Unknown tab has invoices that don't meet the criteria of your document groups. Click on any invoice to view it and start processing.
My Invoices
My Invoices show invoices that need to be submitted to Workday. The oldest invoices are listed first based on the date they were received. In addition to showing your document groups, the tabs in this section have different filtered views:
Past Due: invoices that have a recognized due date and the due date has passed.
Almost Due: invoices that have a recognized due date within 10 days.
Duplicates: duplicate invoices or possible duplicate invoices.
On Hold: invoices that are placed On Hold.
Other Documents: documents that are not recognized as invoices. They may be Purchase Orders, Credits, or any other type of document.

Completed Invoices
Your Completed Invoices lists the invoices that were submitted to Workday or canceled by your team during the current business week (Monday - Sunday) based on your time zone. Submitted invoices are listed under the Submitted tab. Canceled invoices are listed under the Cancelled tab.
You can delete invoices in the Cancelled section at any time. If you need to process a canceled invoice, select the Resume icon from the document entry page.

Search and Filter Invoices
Use the search bar to find invoices based on keywords. You can also select the filter icon

to use the Filter Invoice Search and create filters based on these criteria:
Due Date
Invoice Date
Company Name
Supplier Name
Remit To Name
Document Groups
To create a filter:
Click the Filter icon next to the search bar .
In the dropdown menu, choose your criteria. Checkboxes appear under each option. You can use the search bar to filter them.
Select your filters. Changes update automatically.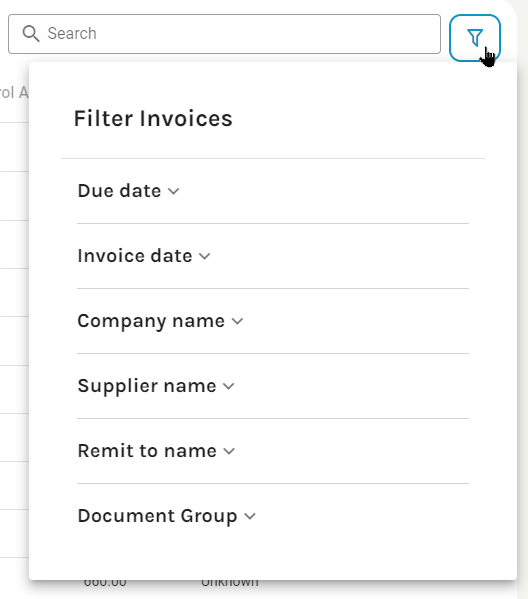 When you're done filtering, click Clear All Filters.